10 stunning North Kolkata Pujas
Durga Puja 2018 is here to give people a chance to forget their worries and celebrate. There is no better place to celebrate the festival other than Kolkata, and this year visitors are in for a great treat. North Kolkata is the old part of the city, and North Kolkata Durga Pujas are really old and traditional. These pujas are many years old and astonish the public each year with all that they have to offer.
We have brought to you the five best Durga Pujas in North Kolkata this year, and what to expect from them.
Santosh Mitra Park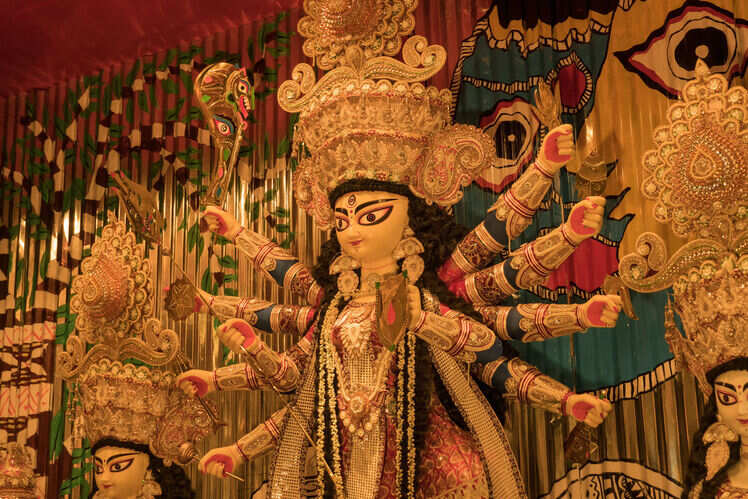 Credit: ThinkStock Photos
A puja that started in 1936 in a small way has become larger than life over the years. This is one puja that is known for depicting contemporary events and going beyond the events of everyday life to draw from science fiction and more. Santosh Mitra Park Durga Puja 2018 is going to be a lot different from most others. This year, the Durga idol here is the costliest one of all time, wearing 20 kg pure gold sari, so it is going to be quite the crowd puller. Also featured here is a chariot that is estimated to cost about INR 40 crore, donated by a jewellery brand.
Mohammad Ali Park
This is one puja in North Kolkata on Central Avenue (Chittaranjan Avenue) that witnesses endless queues and a mad rush for its spectacular pandal and the gorgeous idol or similar themes. This year, the puja committee here is celebrating their Golden Jubilee, and hence they have all things special lined up for guests. First, the carpet area that usually is around 500 sq ft has tripled this year to 1500 sq ft. The pandal has been designed according to the film Padmavaat. The inside has replicated the courtyard from the film's palace, while the overall structure is that of the main palace. The organisers are also promising surprises for visitors, so this is a must-visit.
Kumartuli Park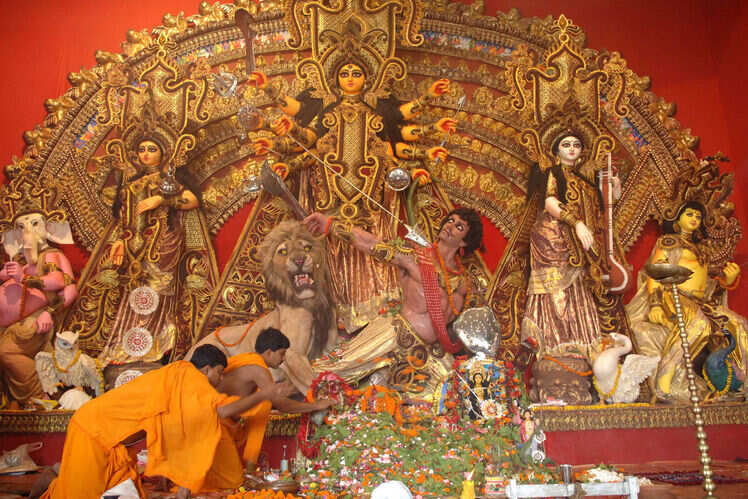 Photo by:  Public.Resource.Org, Creative Commons Attribution Licence
This puja is again a king-size one and is right in the district of the famous Kumartuli idol makers' colony in North Kolkata. The pandal is known for thought-provoking puja themes, and this year it is the simplicity that allures. The beautifully decorated pandal in Durga Puja 2018 is a hark to the simpler times when Krishna would play his flute and sooth the pain of humanity. So, visitors walking into this pandal will be able to get a glimpse of the olden times, while flute music will be playing throughout the day.
Ahiritola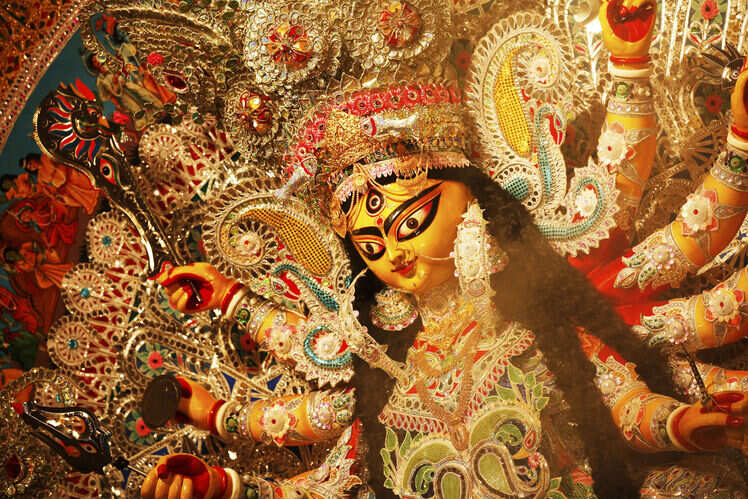 Credit: ThinkStock Photos
The Ahiritola Sarbojanin Durgotsab Samity is another old puja of North Kolkata and is
organised every year since 1940. Do not miss this puja on the BK Pal Avenue if you are a lover of art or are an artist; 2018 Ahiritola puja is all about beautiful street graffiti that are painted to honour the struggle of sex workers. The street graffiti covers a stretch of 300 ft long road in this area and is gorgeous. The aim here is to spread awareness regarding the hardships of sex workers in the city as well as from across the world. However, this has been particularly designed on the sex workers who work at Sonagachi, which is one of the biggest red light areas in Asia.
Jagat Mukherjee Park
This puja is held every year ever since its inception in the year 1936 and draws a crowd for its innovative ideas and beautiful idol every year. This time, during Durga Puja 2018, visiting this pandal would mean entering into a time machine. Here, at Jagat Mukherjee Park, you will be presented with life in 2218. Take a glimpse of what life would be like 200 years later while sharing the same space to worship the goddess.