Kolkata's most iconic street eats and where to have them
There is a lot more to the cultural capital of the nation than Durga Pooja, ta ram network, football and historical places. The city is a delight for the food lovers and tourists from far flung areas visit this place to satiate their taste buds. From puchka to jhal muri, kKathirolls to devil eggs, jalebi to kulfi, you get everything right on the streets. All these food items are delicious and reasonably priced. We take you on a culinary fare of 10 street foods and where to get them.
LUCHI – ALOO DOM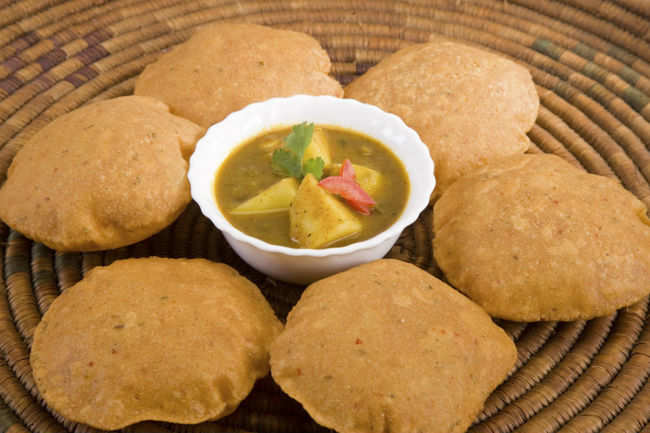 Luchi is similar to the puris while Aloo Dom is the Bengali rendition of Dum Aloo. Very popular among tourists and locals, these dishes carry the essence of Bengal in them. To savour authentic Luchi, go to central business district, 'Fairlie Place'; they serve the best luchi in the city. You can also go to Koshe Kosha at Golpark, which also serves delicious Luchi.
DOODH COLA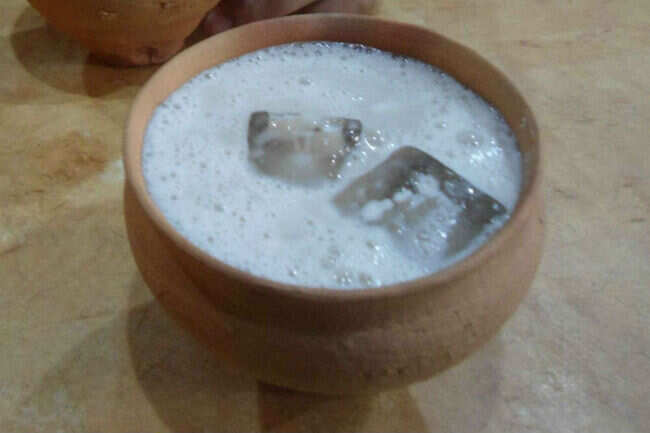 The culture capital of India is bound to surprise you with its variety. Besides normal colas and dois, there is one more beverage that tempts tourists―Doodh Cola. It is nothing but a little cola mixed with milk. This one-of-a-kind beverage is available at Balwant Singh Eating House on S.P Mukherjee Road.
REAL FRUIT KULFI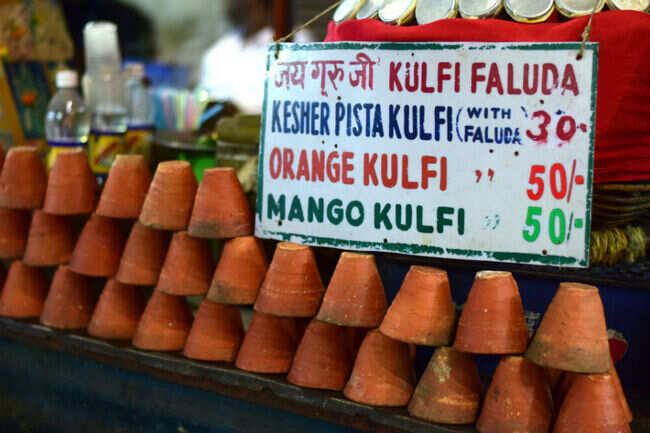 Though kulfies are found everywhere and is loved by kids and adults alike but there is something different about Kolkata's kulfies. They are made with real and not canned fruits. Do not miss 'Orange kulfi' opposite Vardhaan market on Camac Street. They store kulfi by freezing it on the inside of a scooped out orange.
GHOTI GOROM OR BADAM MAKHA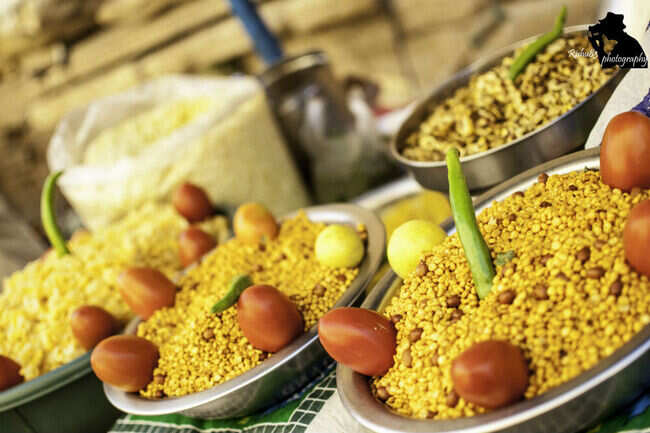 An ideal takeaway while roaming in the narrow lanes of Kolkata, Ghoti Gorom or Badam Makha is a favourite of the locals. Easy on stomach and extremely tempting, this typical Kolkata-style peanut chaat or badam makha is basically made of chanachur. It has onions chopped, chillies, peas, nuts and masala.
ALOO KABLI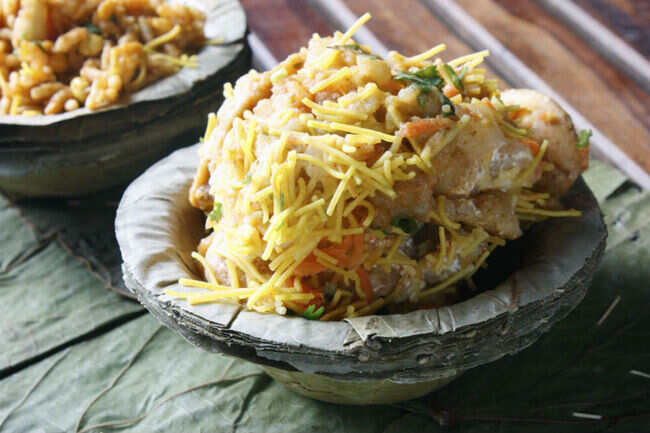 Aloo Kabli is one of the very famous street snacks here. It is a favourite of college and office-goers and is loved by the tourists who have it for the first time. While in the city, you will find hawkers selling this delicious snack of potatoes. To prepare the dish, boiled cubes of potatoes are tossed in with roasted chick peas, chopped onions, tomatoes, coriander, tamarind paste, chopped chillies, and seasoned well.
FISH CUTLETS & EGG DEVIL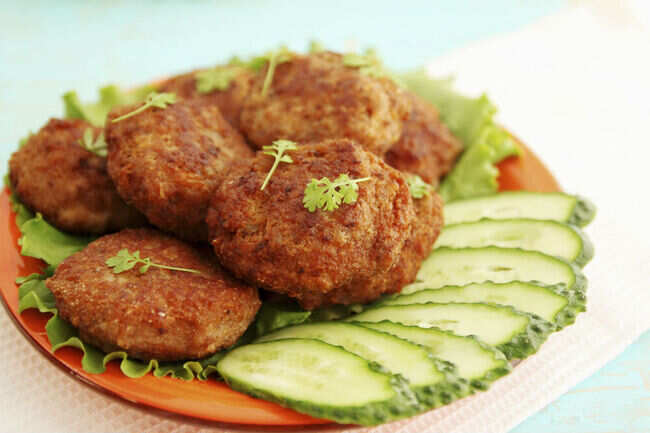 Cutlets made of minced fish, chicken or mutton can be bought from little shacks dotting the streets of Kolkata. Egg Devil is special to this city. 'Dimer devil'― local version of the devilled egg―where the egg yolk is replaced by a minced meat or potato filling. Served with kasundi―Bengal's signature mustard sauce made with ground mustard slightly fermented with juice of an unripe green mango added sometimes to give it an extra zing.
RADHA BALLAVI AND MASALA KOCHURI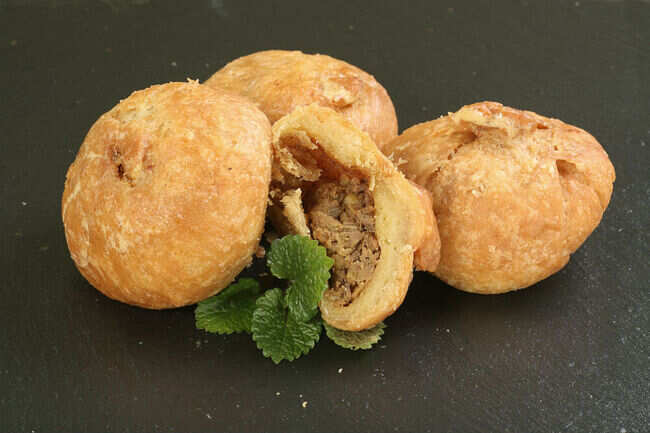 A very popular street food, it is deep fried puri stuffed with lentil called 'Radha Ballavi'. It is usually served with ghugni or chola dal or aloo dum or aloo torkari. They are a rage as a complete meal. The Kochuri or Radhabollobi (as they pronounce it), is one of its kind at Ganguram outlets all over in Kolkata.
CHAI IN EARTHEN CUPS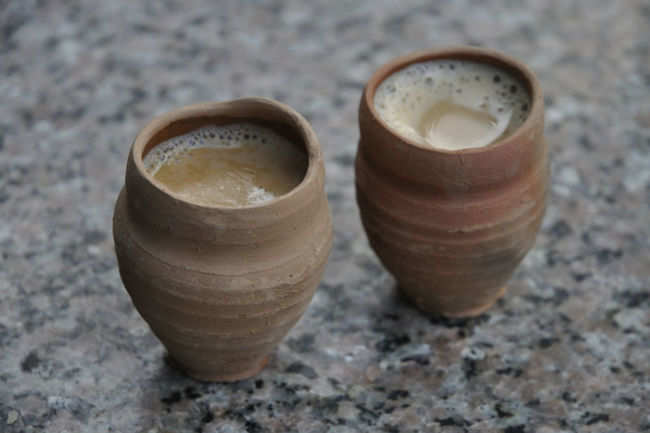 Tea is one of the most preferred and loved beverage among the citizens of India. There are numerous tea stalls dotting the narrow lanes of Kolkata and each of them will revive your senses. It is served in bhaanr or the earthen cups.
TELEBHAJA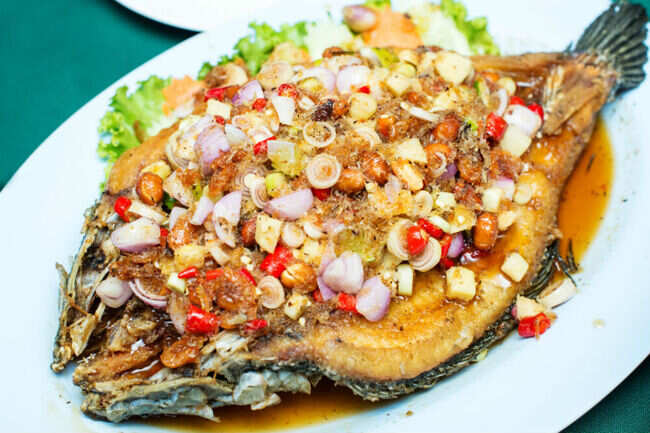 Telebhaja means deep fried snacks, which would include almost everything from brinjal fries to fried fish, egg chops to mutton chops. Onion rings, potatoes, aubergine slices, Bombay duck (lotey maach as locals call) are coated with cornflour (or besan) batter and then fried. Absolutely crisp and delicious, these are very popular as street food.
JALEBI (LOCALLY KNOWN AS JILIPI)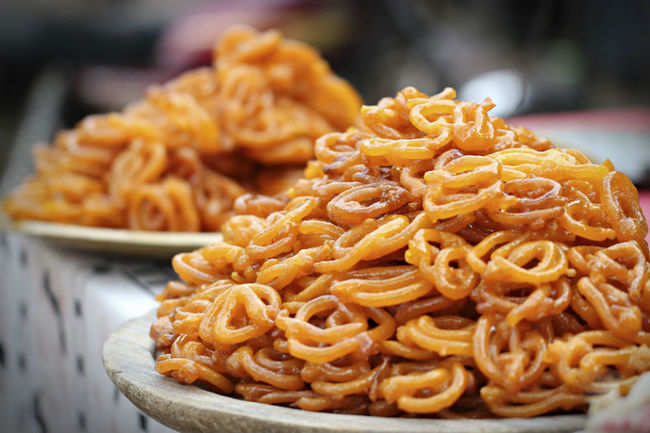 Kolkata's own variation of the Jalebi is called 'Channa Jilipi' or 'Paneer jalebi' which is made of channa or fresh cottage cheese. The best place to have jalebis in the morning is 'Tewari Sweets' in Burra Bazaar, known for pure ghee preparations. Also in the same locality, near Kaali Godam you find crunchy kesariya jalebi.