Durga Puja themes & venues in South Kolkata
Durga Puja in Kolkata is the most important festival of the city, as the entire city comes together to celebrate the coming of Goddess Durga. South Kolkata Durga Puja pandals are known to be some of the best in the city, as hoards of people stand in long queues to catch a glimpse of the beautiful idol of Durga. The pandals are usually well-decorated, and these days organisers work on various themes. Durga Puja 2018 is going to be one crazy ride for those, who love to go out during these days.
People stay out the entire night pandal hopping and spending time with their family and friends. Here is a look at the important Durga Puja pandals in 2018, and what they have to offer this year.
Ekdalia Evergreen Club

Located in the heart south Kolkata at Gariahat, Ekdalia Evergreen Club Durga Puja has been around since 1943. It is known for its tradition of showcasing various temples from all over India, and this year is no different. You can walk into this spectacular pandal and celebrate Durga Puja 2018. The temple structure is enormous, and beautifully crafted, while the inside is decorated by idols of gods and is stunningly colourful. This year, Ekdalia Evergreen Club is celebrating their 76th year of celebrations.
Deshapriya Park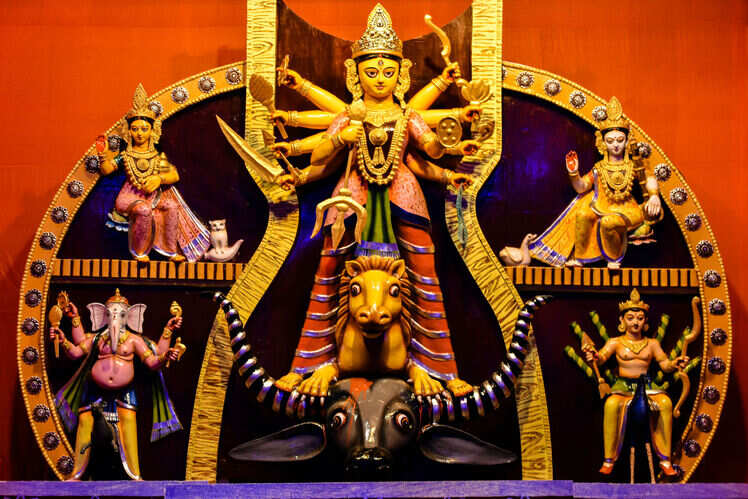 Credit: ThinkStock Photos
This incredibly popular Durga Puja pandal in Kolkata is back again with their astonishing architectural marvel. In 2015 they had built an 88 ft Durga idol that was so wildly popular that the pandal had to shut down after a stampede. Last year, they had constructed a replica of the White Temple of Thailand. This year, the theme of the pandal is Gujarat and is being called, ek tukro Gujarat (a slice of Gujarat).
66 Pally
This is one puja in Kolkata in the Kalighat area that is famous for its creativity, and the organisers have managed to do a lot of beautiful work over the past 50 years. This year, 66 Pally is making the pandal as a decor in tune with Bengal's folk culture. You will find numerous examples of Bengal's rural glory in the form of textile, art and craft, pottery, and so on. The Durga idol is made of fibre and will be placed on a swing.
Badamtala Ashar Sangha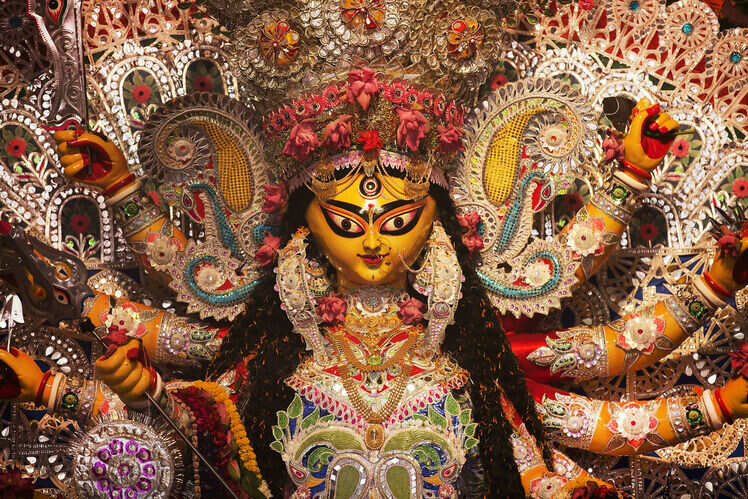 Credit: ThinkStock Photos
Yet another interesting pandal in Kolkata, Badamtala Ashar Sangha is also incredibly popular. The theme for this year's puja is shob choritro kalponic (all characters are fictional), and they celebrate women. According to the organisers, in the modern world, there are numerous successful women, but there are those who are subjected to malice and hatred as well. The puja is dedicated to those women and is an ode to the spirit of womanhood.
Hindustan Park
The Hindustan Park Durga Puja is another famous puja in South Kolkata and has been so for quite some time now. Durga Puja is celebrated each year in honour of Ma or mother, and this year the Hindustan Park Durga Puja has made Ma their theme. There is a massive statue of the Ma, right in front of the pandal, made of the Bengali letters that make up the word. A must visit for all.